<! -- Masthead -- >

<! -- /Masthead -->

Renowned Swiss artist Ugo Rondinone's colorful large-scale, public artwork Seven Magic Mountains is an exhibition located in the desert outside of Las Vegas, Nevada, featuring seven, 30 to 35-feet high dayglow totems comprised of painted, locally-sourced boulders.

Visible across the desert landscape along Interstate 15, Seven Magic Mountains offers a creative critique of the simulacra of destinations like Las Vegas. According to Rondinone, the location is physically and symbolically mid-way between the natural and the artificial: the natural is expressed by the mountain ranges, desert, and Jean Dry Lake backdrop, and the artificial is expressed by the highway and the constant flow of traffic between Los Angeles and Las Vegas.

Seven Magic Mountains is produced by the Art Production Fund, New York and Nevada Museum of Art, Reno. Approximately 10 miles south of the intersection of Las Vegas Boulevard and St. Rose Parkway in Henderson, the installation site is a short distance from Jean Dry Lake where Michael Heizer and Jean Tinquely created legendary land art works in the 1960s. Many of the project's public programs will take place at ARIA Resort & Casino, and partner locations in Nevada, including the Marjorie Barrick Museum on the campus of the University of Nevada, Las Vegas.
Artist: Ugo Rondinone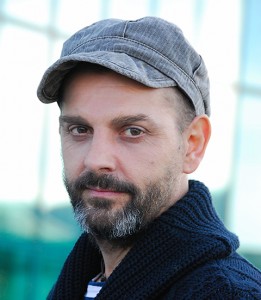 Ugo Rondinone, born 1964 in Brunnen, Switzerland, lives and works in New York and has long embraced a fluid range of forms and media. By allowing himself such formal, Rondinone creates the conditions for an expansive emotional range. His work has become recognized for its ability to channel both psychological expressiveness and profound insight in the human condition and the relationship between human being and nature. Referring concurrently to the natural world, romanticism and existentialism, his works encapsulate a "mental trinity" that has underpinned his art for more than twenty years.
Recent solo shows include Carre d'Art, Nimes, Boijmans van Beuningen, Rotterdam (2016); Palais de Tokyo, Paris, Secession, Vienna (2015), Rockbund Art Museum, Shanghai, Museo Anahuacalli, Mexico (2014); Art Institute of Chicago, Chicago, M Museum, Leuven (2013)
Producers
Art Production Fund (APF) is a 501(c)(3) nonprofit organization dedicated to commissioning and producing ambitious public art projects, reaching new audiences and expanding awareness through contemporary art. Recent projects include: After Hours: Murals on The Bowery, NYC, 2011; David Brooks, Desert Rooftops, NYC, 2011; Josephine Meckseper, Manhattan Oil Project, NYC, 2012; Kiki Smith, Chorus, NYC, 2012; Yoko Ono, Imagine Peace Times Square, NYC, 2012; Yvette Mattern, Global Rainbow After The Storm, NYC, 2012; Ryan McGinley, Taxi TV, NYC, 2013; Tony Smith, One-Two-Three, NYC, 2013; Tracey Emin, Roman Standard, NYC 2013; Pop Up 1: Montauk, NY, 2013; ThreeASFOUR, MER KA BA, NYC, 2013; Marco Brambilla, Anthropocene, NYC, 2013; Vanessa Beecroft, VB73, NYC, 2014; Deborah Kass, The Street, MA, 2014; Jessica Craig-Martin, Hyde Park Village, FL, 2014; FriendsWithYou, Light Cave, NYC, 2014; Hanna Liden, Everything, NYC, 2015; Gerard & Kelly, Modern Living, Los Angeles, 2016; Co-Founders: Yvonne Force Villareal & Doreen Remen; Executive Director: Casey Fremont. www.artproductionfund.org
Nevada Museum of Art is the only AAM accredited art museum in Nevada. A private, non-profit organization founded in 1931, the Reno-based institution is supported by its membership as well as sponsorships, gifts and grants. Through its permanent collections, original exhibitions and programming, and Museum School, the Nevada Museum of Art provides the opportunity for people to engage with a range of art and education experiences. Its Center for Art + Environment, is an internationally-recognized research center dedicated to supporting the practice, study, and awareness of creative interactions between people and their environments. The Center houses unique archive materials from more than 1,000 artists working on all seven continents, including Cape Farewell, Michael Heizer, Walter de Maria, Lita Albuquerque, Burning Man, Center for Land Use Interpretation, and Rondinone's Seven Magic Mountains project. More at nevadaart.org